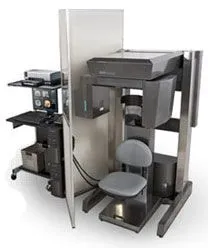 Ear, Nose and Throat Surgeons of Western New England is the first group in Massachusetts to obtain the Xoran MiniCAT™ CT Scanner. The MiniCAT™ is a unique high-quality point-of-care volume CT scanner for imaging of the sinuses, skull base and temporal bones and provides several benefits to both patients and physicians.
Being located at your point-of-care, the MiniCAT™ volume CT scanner speeds up diagnosis and treatment while reducing travel requirements and time away from work.
Point-of-care CT scanning eliminates the hassle of external imaging and does not delay the diagnosis. There is no longer a need for several appointments between our office and a hospital or imaging center. Your physician can make quick, accurate diagnoses while having complete control of the imaging process. With MiniCAT™, your doctor has immediate access to your CT scan. On-site CT eliminates wasted time and resources tracking down hospital CT films allowing your doctor to access your MiniCAT™ studies at any time.
The Xoran MiniCAT™ offers peace of mind with a lower radiation dose. A MiniCAT™ scan has much lower radiation then scans by a full-body CT scanner. For a sinus scan, the MiniCAT™ exposes you to .17 mSv. The same sinus scan on a conventional CT scanner would expose you to .96 mSv., more than five times the radiation.
Not only does the MiniCAT™ have a much lower radiation dose, it also uses much less energy meaning that it is energy conserving.
MiniCAT's innovative technology optimizes X-ray efficiency, minimizing the radiation dose to the patient while providing unprecedented, high-resolution images of the sinuses, skull base and temporal bones.
With the MiniCAT™, you sit comfortably upright plus this is an open design so there is no anxiety or claustrophobia that many people feel with a conventional whole body CT scanner.
Having your CT exam conducted at Ear, Nose and Throat Surgeons of Western New England with the Xoran MiniCAT™ is covered by most insurance companies.