Allergy Treatment at ENT Surgeons of Western New England
Ear, Nose and Throat Surgeons of Western New England, LLC offers state-of-the-art diagnostic and treatment options for allergy sufferers. All of the doctors in our practice are board certified otolaryngologists and, as such, are trained in the treatment and management of allergy. They are in the unique position of combining their extensive knowledge of ears, noses and throats with comprehensive allergy skills and knowledge so that patients are properly diagnosed and their symptoms are treated appropriately.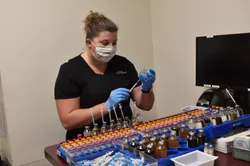 Allergy treatments we offer include:
Allergy testing
Allergy management advice
"At home" sublingual immunotherapy
Traditional in-office allergy shots
We offer convenient times in the morning, afternoon and evening for patients who choose injection therapy.
For more information on our Allergy Department, visit our Allergy Staff biography page.
For any changes in our Shot Clinic hours, please call 413-233-2056 for a recorded message that is updated daily with any clinic changes due to weather.